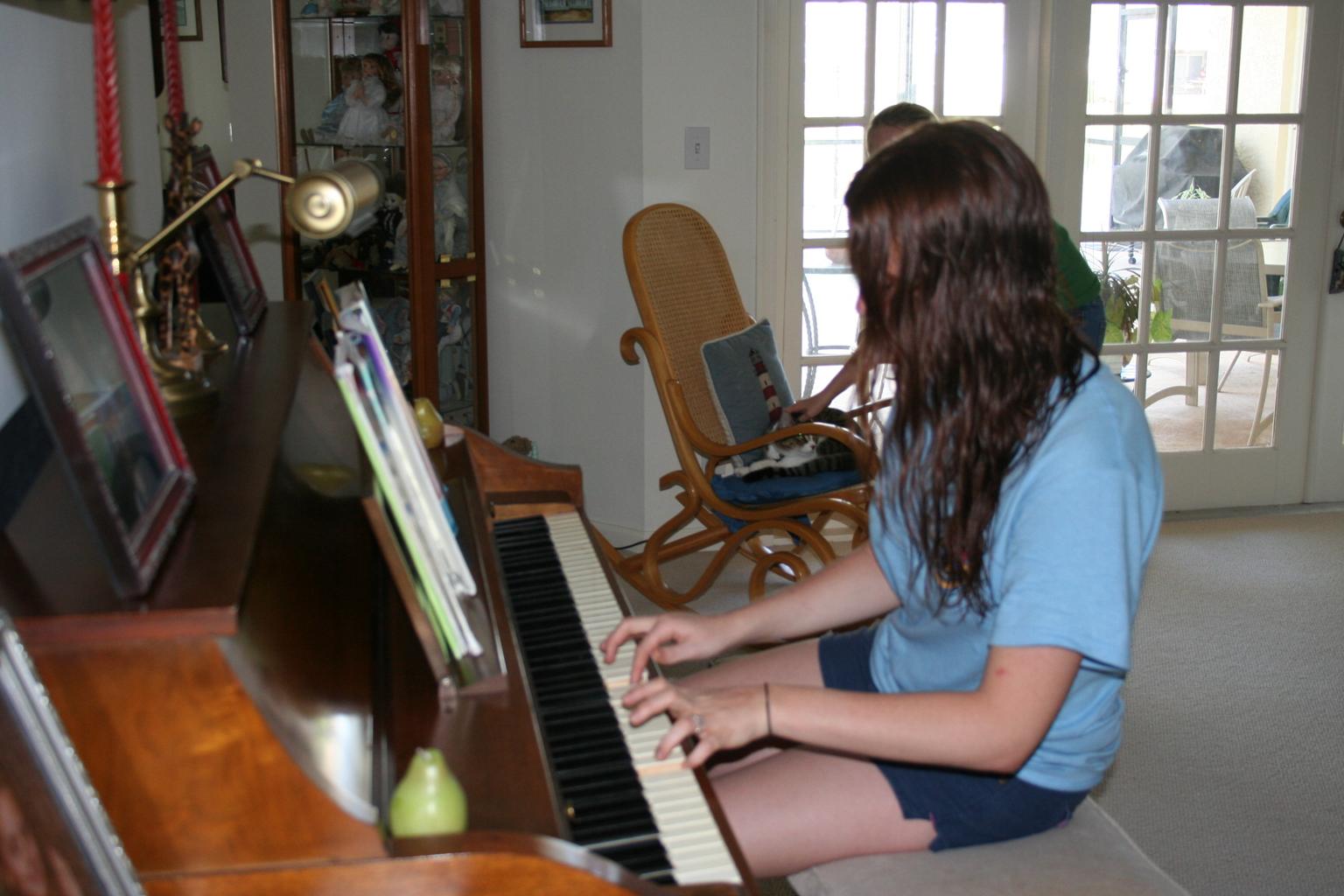 Instead of reporting poetry news, I would like to use this page to tell you about the tragic death of one of my son's college friends, Rachel Morningstar Hoffman. She was 23 years old. I wrote about her death in a myspace blog, and wrote two poems dedicated to her. Here in a nutshell is the view of her death (taken from my blog), from a friend's family perspective. It is truly a tragedy.

It has been a very difficult few days, our worst fears confirmed. One of my son's college age friends went missing on Wednesday, May 7, 2008. Her body was found on the morning of May 9. She had been kidnapped, robbed and murdered. There are many stories circulating out there, and I'm not entirely sure what the whole truth is, nor will I claim to. Suffice it to say that Rachel had gotten into some trouble in the past year, and had agreed to cooperate with law enforcement officials by becoming an informant in a drug sting.

There are many conflicting reports that she had been wired, given some $10,000 cash to purchase crack cocaine, ecstasy pills AND a gun! She was NOT a trained police officer, not a law enforcement official or the like. She was a 2007 graduate of Florida State University, with a major in psychology with absolutely no training for an endeavor of this kind. The night she was to make contact with these criminals, something went foul and instead, the thugs apparently abducted her and killed her before the police were aware of what was going on. They had lost contact with Rachel, when they should have been right there with backup!

Rachel was immediately reported as missing, with foul play suspected. The Tallahassee Police Department even had mug shots posted of the suspects, so it was apparent she had been set up to meet these criminals. The suspects were apprehended in a short period of time in the Orlando, Florida area. It was reported that after a two day search, her body was found in rural Taylor County, southeast of Tallahassee. There are now pending murder charges against these criminals, and Tallahassee police are not saying much, due to an ongoing investigation.

My son Vince is absolutely crushed, and his college friends are stunned. Rachel was a loving friend, a gifted musician and a talented cook. She was scheduled to attend culinary school in Arizona. He had not seen her much during the past year because they had drifted apart. He told me he did run into her not too long ago and "she kicked my ass playing pool." Still, she was a very good friend, a beautiful human being, and he is heartbroken. My heart aches for her parents, her family and her friends. This is truly a tragedy for all involved. Please keep them in your thoughts and prayers. Thank you, my friends...... Colleen

To view the entire story, please click below:

Tampa Bays 10.com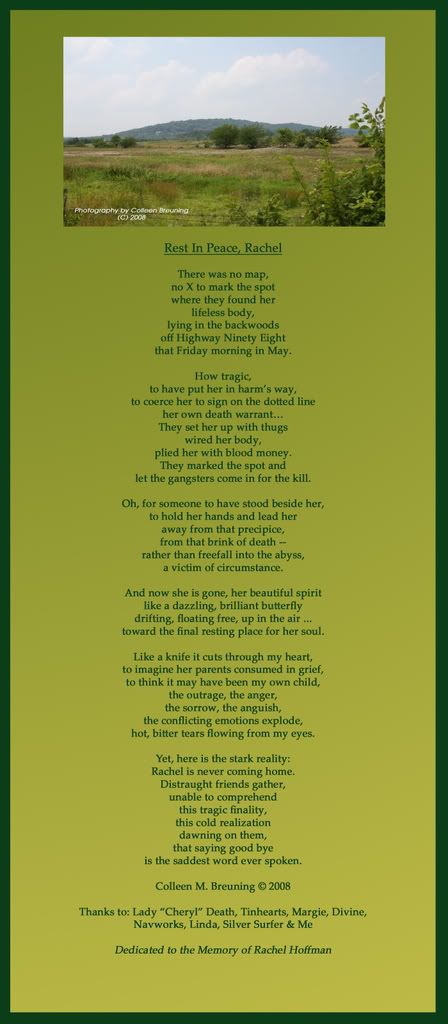 This is the video tribute that my son Vince created in memory of Rachel. Rachel's funeral was held at Temple Ahavat Shalom in Palm Harbor on May 13, 2008. Over 800 people attended. Rest in Peace, Rachel Morningstar Hoffman. You will never be forgotten!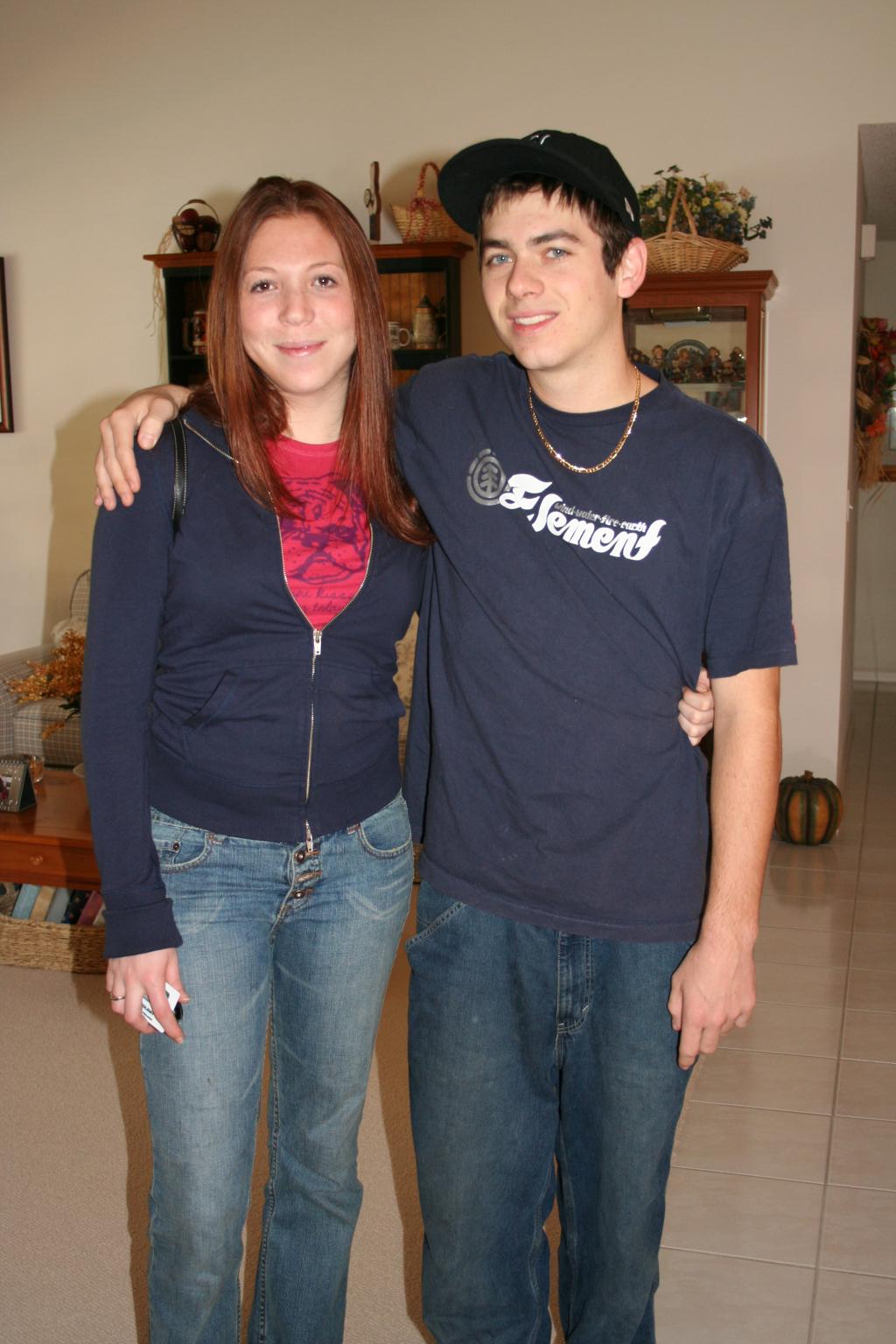 My son Vince with Rachel at our house on Thanksgiving Day 2005.